How To Choose The Right Tyres
Tyres can make or break your daily drive, so choosing the best tyres is vital for your driving experience.
They are the only part of your vehicle touching the road and it's essential to get the best set when it's time to replace your tyres.
If you don't find the right tyres for your car, you're risking the safety of other drivers on the road. Here's how you can choose the right tyre for your car:
1. Check your tyre size
To find out which model is available for your car, you need to know your tyre size. With Tyroola, just enter your Rego and your size will be displayed.
enter your Rego and your size will be displayed.Your new tyres should have the same tyre size, load rating and speed rating as the OEM tyres/recommended by the vehicle manufacturer.
Check your current tyres.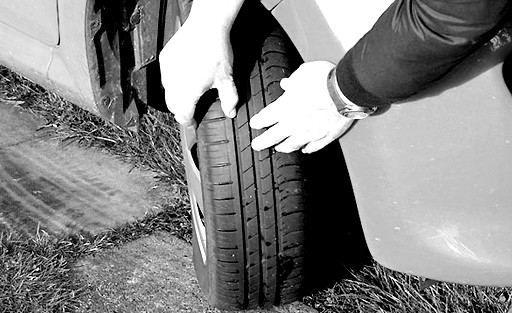 If they are the tyres the car came in from the factory, then follow its specs when choosing replacement tyres.
If they are already replacement tyres, double-check if the information on your sidewall matches the manufacturer's specs (which you can find on the tyre placard and vehicle manual).
Where to find your tyre specs
Tyre Sidewall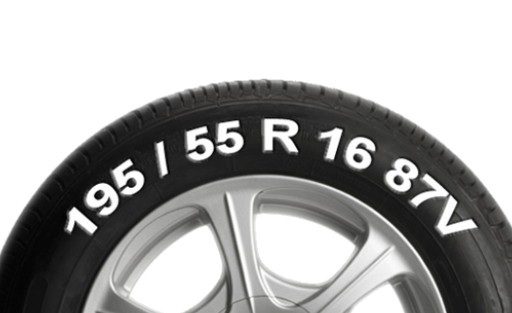 Check the sidewall of your current tyres. You will see a combination of characters in a form similar to this: 165/55R17 94H. They correspond to the tyre size, load rating and speed rating specs you need.
Tyre Placard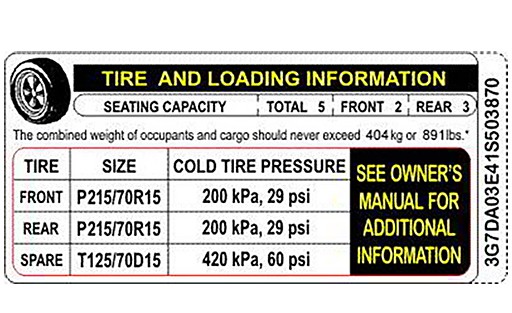 Look for the manufacturer's placard on the driver's door, under the bonnet, inside the fuel cap or in the glove box. It should have your car's recommended tyre size, load rating and speed rating. Note them down and compare them with the specs you'll find on the tyre sidewall.
Owner's manual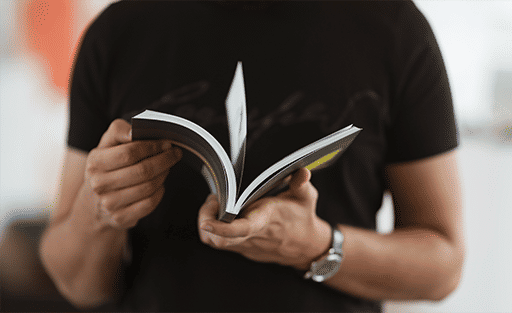 You can also check for your tyre dimensions in your owner's manual. This is a good way to double-check in case your current tyres don't match your tyre placard.
Tyroola's Tyre Configurator: The easiest way to choose new tyres
Once you have that combination of letters and numbers that make up your tyre size, you can enter all the tyre details into Tyroola's Tyre Configurator:
Just enter your tyre size, your car rego or car type.

Choose your fave from Tyroola's recommendations.

Let us know if you want it delivered & fitted at home or your nearest fitting station.

Let us know if you want it delivered & fitted at home Check out. So Easy!
But if you want to geek out on tyre tech info: Keep reading!
How to read tyre size on your tyre's sidewall
Your Tyre Size Explained
Tyre Size is the measurement of the tyre width, sidewall height / tyre profile (aspect ratio) and diameter (Rim size) of any tyre.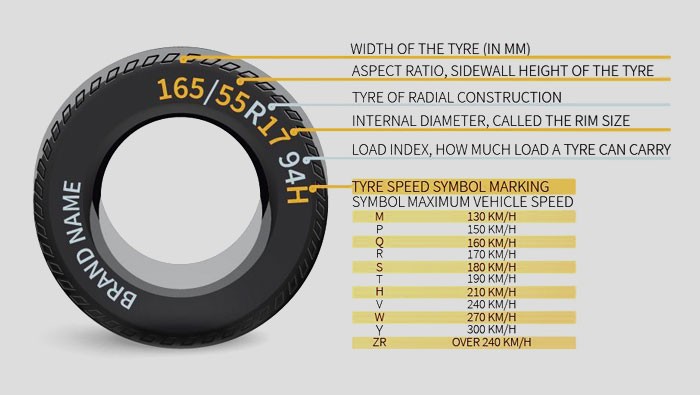 In the tyre sample above: Tyre width = 225 ; Aspect ratio = 45 ; Diameter = 17
Load Index
Load Index is the maximum load or weight a moving tyre can carry, at the fastest speed allowed, when properly inflated.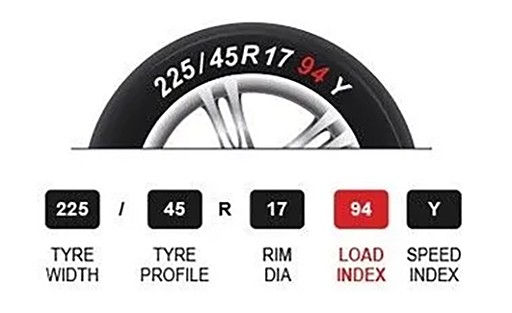 This figure applies to one, individual tyre; not all four attached to the vehicle. The higher the tyre load index number, the greater its load-carrying capacity.
Speed Rating
A tyre's Speed Rating is the maximum speed a tyre can handle, the absolute limit to how fast it can go, while carrying a full load, before it fails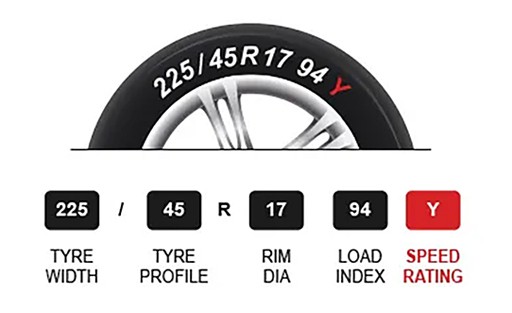 KEY FACT: The speed rate of tyres are generally higher than legal speed limits to accommodate the vehicle's top speed for a prolonged period of time. So, it's not a free pass to floor it on every drive.
2. Choose tyres that match the kind of vehicle you drive.
Do you drive an Suv / Commercial van / Ute / Mini-car / Sports car / 4x4 / Sedan? If you drive an SUV, for example, you will need to choose SUV tyres for your vehicle - and so on. Choosing an aggressive mud-terrain tyre might not be the best choice for your Sports car.
3. Should you stick with the OEMs or try a new brand?
All cars come with original equipment tyres handpicked by the car manufacturer. If you are satisfied with the OEM's performance, then, by all means, purchase a fresh set. Technically, these tyres are the optimum choice since they were designed specifically for your car model. Simply look through your driver's manual or check Tyroola for more details about the exact tyre model you need.
However, you might want to switch your OEM tyres out for aftermarket tyres - a new tyre brand or model. There are many reasons not to stick to your OEMs:
Your OEM tyres are no longer available in the market.

Your OEMs don't satisfy you and can't deliver what you need.

Upgrading your tyres to a more reliable, long-lasting tyre with better handling and traction.

Downgrading to a tyre that might not be as high-performance but is more fuel-efficient.

Tyroola's cheap prices and regular promotions also make it attractive to change your OEMs.
Whatever you decide - sticking to the Original Equipment or changing them for aftermarket tires, you'll definitely find them at Tyroola.
4. Assess Your Driving Needs & Habits
Think about the following questions. Your answers will help you choose which is the best drive amongst the available patterns with the tyre size and type you need.
Where do you drive? Is it mostly in City/ Highway/ Urban or Off-road/Rural environments? Choose from highway, off-road tyres or All-terrain tyres.

What are the weather conditions where you drive? Tyroola stocks all-season, winter and summer performance tyres as well.

Who or What do you drive? Are you buying tyres for the family car or for a tradie's ute? Is it for a commercial van or truck?
Tyroola has included the new EU tyre label and other product details for most tyre patterns to help you choose the tyre that matches your personal driving needs.
5. Check out Tyroola's available tyre brands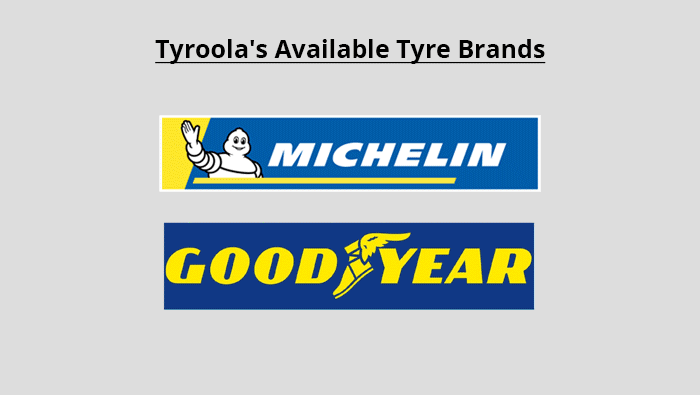 At Tyroola you can compare prices between our selection of trusted premium, mid-range and budget tyre manufacturing brands.
If you want to see which brands are the best and which ones are below average, our comparison guide gives a good overview of Australia's fave tyre brands.
Roll through our brand selection for all kinds of tyres here.
6. Choose between premium, value and budget tyres

You can save money with budget or cheap tires from Goodride, Atturo, and Kenda that have proven long life spans.
Value brands such as Kumho, Nexen, and Falken give you the best comfort for a reasonable price.
If you want maximum safety, Premium tyres from Michelin, Continental, and Bridgestone might be your best choice.
You can search for all kinds of premium, value and budget tyre brands on Tyroola.
7. Buy your tyres online
You can buy your tyres from a local dealer or online at Tyroola:
You'll get a wider and more extensive range of tyre choices than most brick and mortar stores.

We offer cheaper prices than physical stores for the exact same tyres thanks to lower overhead costs.

Enjoy a convenient & stress-free tyre buying experience. You don't have to go to the actual store & can also get it delivered or fitted at home (if mobile tyre-fitting is available in your area)

Get professional tyre fitting from our tyre centre partners located all over Australia. They can check tyre pressure, wheel alignment, your brakes and more.
SAFETY TIP Don't mix different types, sizes, or brands of tire on your vehicle to ensure consistent driving performance and optimal safety.
Blog overview